The Oratorio for a Million Souls is a major feature of the European Capital of Culture, Leeuwarden (Fryslan) 2018 Silence of the Bees programme. The project consists of bee listening architectures constructed in three European botanical gardens, located in Buitenpost (Fryslan) and Emden and Oldenburg (Germany).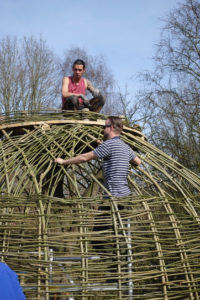 Working on the willow framing.
Dhe structures were built by landscape design volunteers from the Nordwin College in Leeuwarden and the artist worked in close collaboration with Jon Drummond to create both the sensor hive and audio system as well as new musical compositions for wind ensembles.
Physically each Oratorio is constructed in wattle and daub and is based upon the form of a traditional woven straw beehive (a Skepp in English). The hemispherical interior of the Oratorio provides a special acoustic architecture that resonates with the domed roofs of Cathedrals and Mosques. And here I would like to say a special thank-you to the guys from Nordwin college for all their design and build work on the project.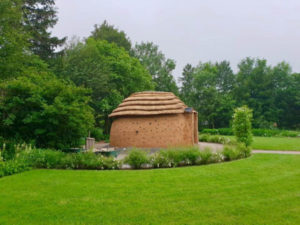 The finished Leem walls with Thatched roof and roof garden.
The Oratorio structures are technologically simple and robust, each of the three Oratorio listening spaces contain two sensor-hives equipped with small high quality microphones as well as digital-sensors that collect data on Bee movement, temperature and humidity and this data is also converted into sound patterns.
So why bees?
As a colonial insect with highly defined social structures bees have for Millenia provided us with a metaphor for human social organisation. The workers who make up the vast majority of the hive population, have stood for loyalty, obedience, courage and selflessness ~ and much of their behaviour would seem to support the anthropomorphic metaphors we attach to them – The Hive was a perfect role models for Nineteenth Century industrial capital, which like the Monarchy is based upon a rigid autocratic power pyramid.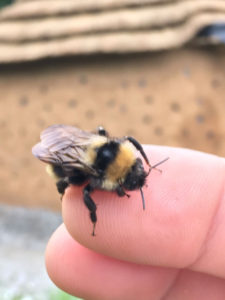 Bumble Bees are rather friendly.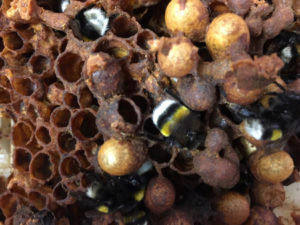 But rather messy!
Oratorio for a Million Souls – design concept from Nigel Helyer on Vimeo.
A visualisation of the Oratorio structure – courtesy Sebastiaan, Sjoert and Mikael from Nordwin College Leeuwarden.
These metaphors have however evolved and changed with both the increase in knowledge of insect ecologies and as a reflection of changes in human social organisation. We now understand more about the intricate chemistry of Bee genetics as well as the complex decision making processes involved (in for instance) swarming – we now understand this as a type of collective democracy – not the work of an individual mind but a product of parallel processing. A natural neural network, if you like, that has evolved over if you like, that has evolved over a 100 million years – the hive as super-organism, the hive-mind.