Exhibited.
Nykytaiteen Museo, Helsinki (Kiasma) 1999.
Auckland City Art Gallery 1999.
And as radio broadcast for YLE Finland and ABC Australia.
A collaborative project with Simo Alitalo.
Materials.
Multi Channel 3D audio system, Underwater audio system, Life-rafts, Hydrophones.
Dimensions.
Installation footprint 12m x 12m x 3.5m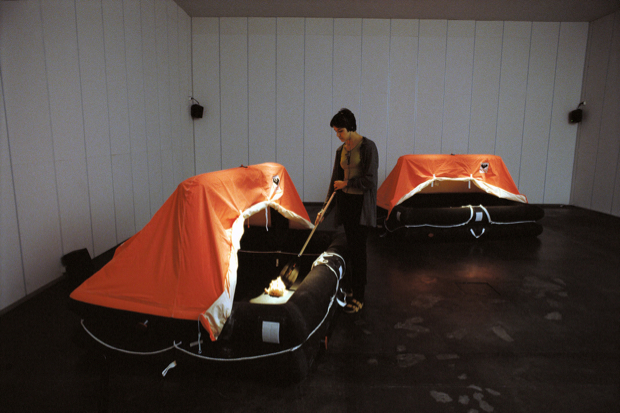 Notes.
The Transit of Venus is a major project proposed in the form of a series of International exhibitions, broadcasts and Interactive works. Based upon a collaborative research, development and production process The Transit of Venus takes as its starting point the voyages of colonial expansion across the Pacific tracing a European sounding-out of a terra incognita. This is a meeting of different aural sensibilities, a contest of spatial and environmental perceptions and a collision of geographies; the Maori considered James Cook's ship, the "Endeavour" to be a floating island, naturally they were correct in that it transported not only men and equipment but another cultural system!
Listen to the radiophonic version that accompanied the work.
Our central aim will be to construct an 'Impossible Object' in the form of a Sonic Cartography of Pacific encounters which will critically examine the period of colonial expansion from historical and ideological perspective's. The project will be designed to operate across a wide range of modalities, and will be manifest as sculptural installations, soundscapes, radio works (commissioned for Australian and Finnish national broadcast corporations) and interactive works for both stand-alone museum displays and Internet systems.
The principal objectives of ToV are;
(1) To create an 'impossible object' in the form of a sonic cartography of the Pacific – a tracing through both time and geographic space.
(2) The pursuit of 'Venus' in terms of a juxtaposition of;
(a) The desire for scientific knowledge (which was in effect the sole reason for Cooks first voyage). Here characterised by the observation of the Transit of Venus (on Tahiti) – together with an impressive accumulation of scientific data – botanical, zoological, ethnographical, cartographic etc.
(b) The inter-twined desire for 'carnal knowledge' (of the exotic/of the 'other'). It appears that concomitant with any imperial, colonial or exploratory 'quest' is an implicit desire to genetically mingle; to diffuse; to imprint (Tahiti still has this reputation!).
(3) Any attempt to represent this 'impossible Pacific site' will need to incorporate both historical documents and fictions. The many facets of the project, although based upon documentary images and text/voice – should acknowledge our fictional and partial construction of History – the 'Pacific' is essentially a fictional place!!!.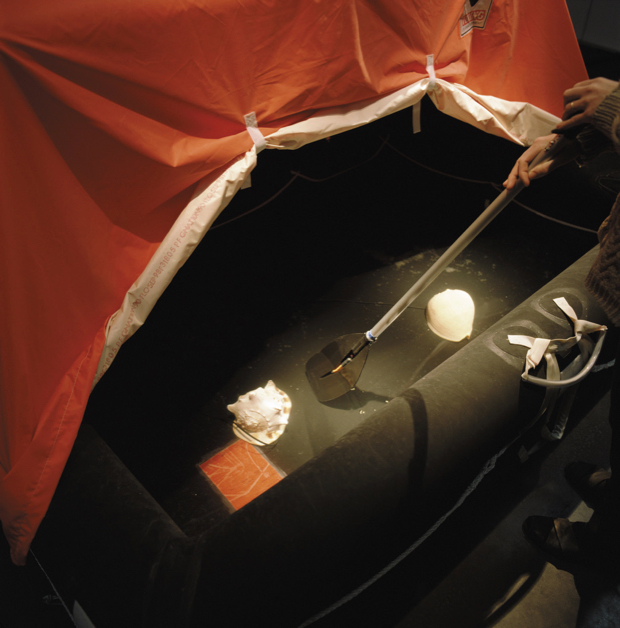 So perhaps it would be better to admit defeat in the face of accuracy and scholarship – and embrace the task of weaving an imaginative fabric from the fragments we have been able to grasp.
Our re-imagined Pacific will then be a Wunder Kammer which co-locates marine and astronomical charts to plot out a diagrammatic space – inhabited by the hand-rendered representations of newly observed Pacific creatures and plants – and voiced by accounts of first encounters, from both sides of the contact.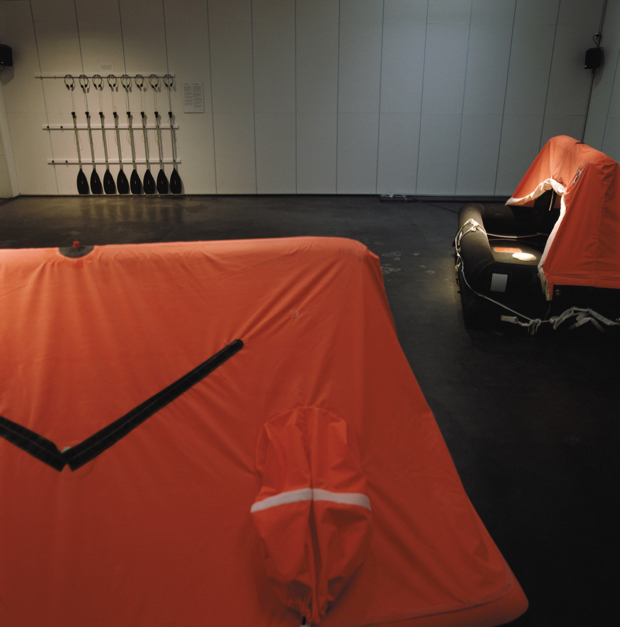 In the final analysis the images and sound which the work presents will, and should, remain a mystery, a tangle of hearsay, factual document, misrepresentation and wonderment.  The work reflects this 'imaginative tangle' in both a structural and a conceptual manner, as a visually rich and metaphoric/poetic in the juxtaposition of image/text/sound.
An outline descriptor for the Nykytaiteen Museo, Helsinki;
The Transit of Venus project will take the following form when installed in the Container Room at the New Museum of Contemporary Art in Helsinki. The Container room will be equipped with a 3D sound spatialisation system to produce a dynamic 3D soundscape, which evokes the Pacific.
In addition the gallery will contain two inflatable structures in the form of liquid filled raft-like objects equipped with under-water speaker systems. Visitors to the project will be able to search for these under-water sound narratives, which 'fill' these vessels by using portable hydrophones built into canoe paddles.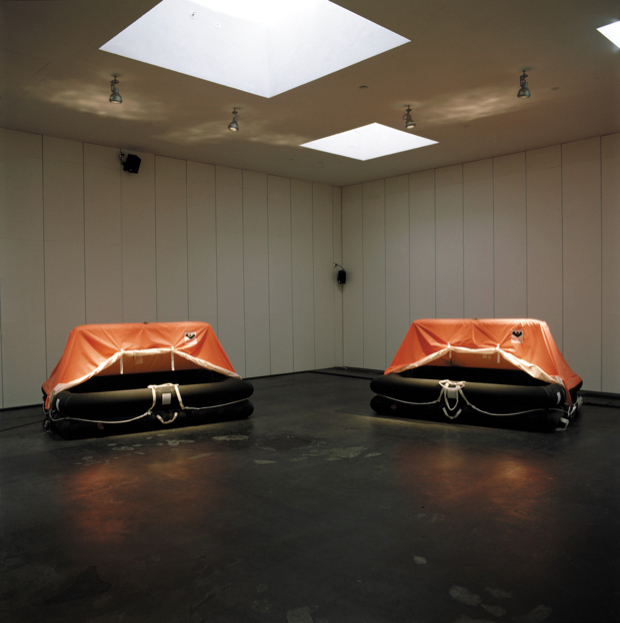 Adjacent to the Container Room (directly above the KIASMA main entrance) a data projector will display a slowly morphing video image and below at the Museum entrance the sounds of the installation will be relayed to outdoor speakers.
A website will accompany and extend the installation by providing an interactive means of moving through the project research material and will be available within the Museum for visitors to access historical textual material. (this is currently unavailable but watch this space).
A further extension of the project will take the form of a dual language Radio broadcast scheduled for transmission during the exhibition (see Cd section in this site).
© Dr Nigel Helyer 1998.