Exhibited.
Boutwell Draper Gallery, Sydney 2003.
Materials.
Stainless steel, Aluminium, Audio and Solar electronics.
Dimensions.
Footprint variable, each unit 300m dia. x 3.5m.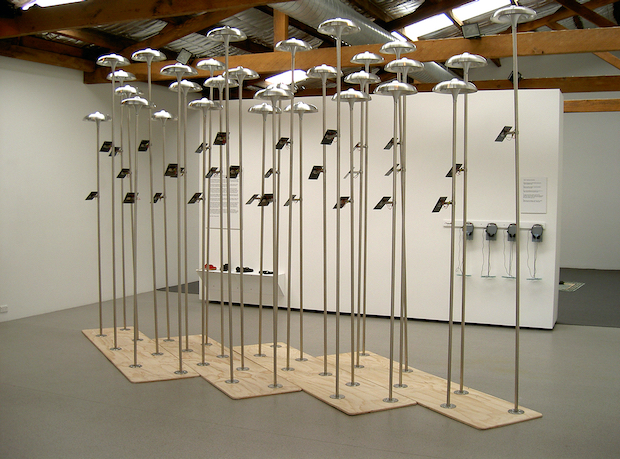 Notes.
Haiku is a multi-part solar-powered environmental sound sculpture that distributes a series of traditional Japanese poems via miniature digital audio storage units operated by solar timers.  Haiku is illustrated whilst installed at Boutwell-Draper Galley, Sydney as part of the 'Gone to Earth' solo exhibition 2003. A new solar accumulator/timer circuit was developed to permit this project to operate indoors.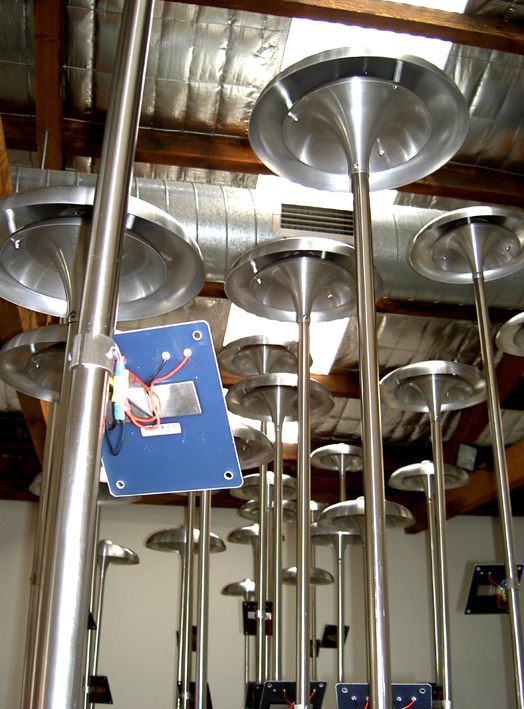 Slight variations in power availability cause variations in audio chip activation with the consequence that the 'ensemble' produces an 'infinite-mix' of thirty voice phrases, never repeating exact patterns.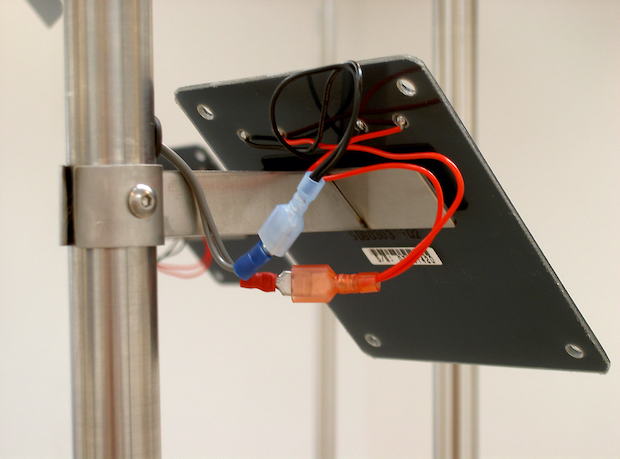 Haiku is a development of Meta-Diva and Dual Nature and is a part of the I.D.E.A.S. research project (Interactive Digital Environmental Audio Systems).
I.D.E.A.S. (Interactive Digital Environmental Audio Sculptures)
The principal aim is to create a series of modular, multi-unit, environmental sound sculptures, which exhibit increasing complexity and sophistication. The electronic systems within these sculptures will be robust enough for permanently installation in outdoor environments, will be self-powered (solar) and have the capacity to store, mix and replay good quality audio. In addition, the units forming the environmental sound-sculpture (an 'ensemble') will display some forms of A.I. (say interactions with environmental conditions, fauna or human presence or the sound activities of proximate units).
IDEAS will be developed as part of the Swiss Artists in Labs Art + Science collaborations during 2004; see the Theorem project.
© Dr Nigel Helyer 2003.