Exhibited.
Lux Gallery, London UK 2000 and Australian Centre for Photography, Melbourne 2000.
Materials.
Laser cut acrylic, copper wire, electronics.
Dimensions.
Footprint variable, individual units 0.75m x 0.6m dia.
Notes.
Be nor afeared; the isle is full of noises,
Sounds and sweet airs that give delight and hurt not.
Sometimes a thousand twangling instruments
Will hum about mine ears; and sometimes voices
That, if I then had waked after long sleep,
Will make me sleep again; and then, in dreaming,
The clouds methought would open and show riches
Ready to drop upon me, that, when I waked,
I cried to dream again.
Caliban, in The Tempest, Shakespeare (Ariel is a form shifting sprite and key figure in the Tempest!).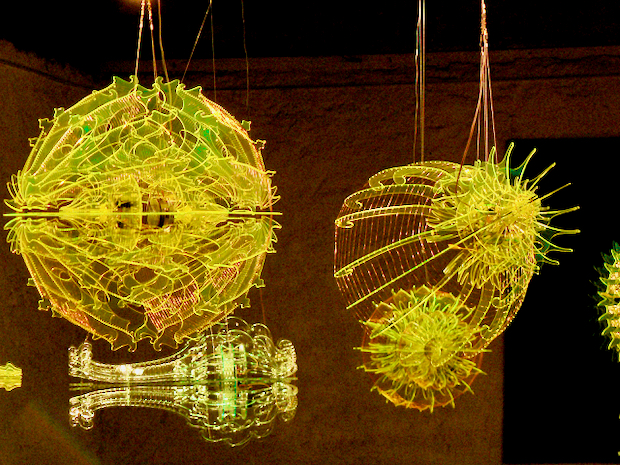 Technically Ariel consists of a series of eight laser cut acrylic sculptures, all of which have a strong morphological relationship to microscopic marine forms sharing symmetry with the structure of primitive Radiolaria, countless millions of which form the geological strata of the oldest continent..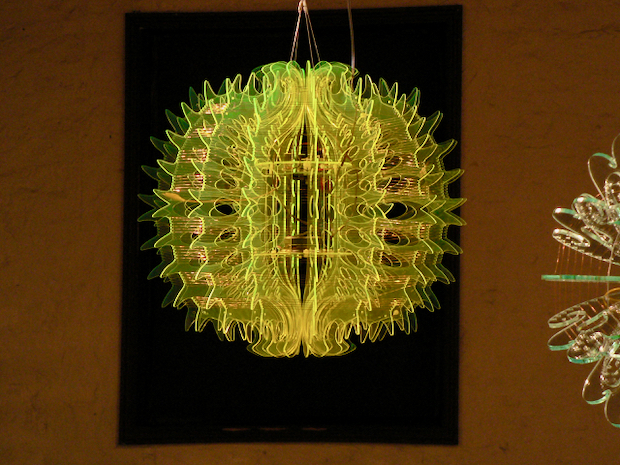 Ariel was a part of the "Orbital" exhibition held simultaneously at the Lux Gallery, London and the Centre for Contemporary Photography, Melbourne (July and August 2000). "Orbital" was curated by the Experimenta Organisation as part of Australia's celebration of the Centenary of Federation.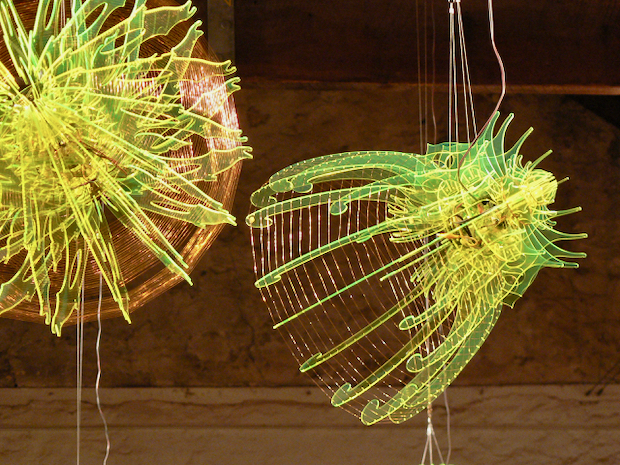 Each object supports a digital Theremin circuit, amplifier and speaker and the structure itself acts as the physical former for the antennae windings, which are sensitive to bodily proximity. Thus on approach the objects respond acoustically, and moreover the entire installation operates as a 'swarm' through a form of electromagnetic coupling – producing clouds of audio 'turbulence' as a visitor approaches the installation.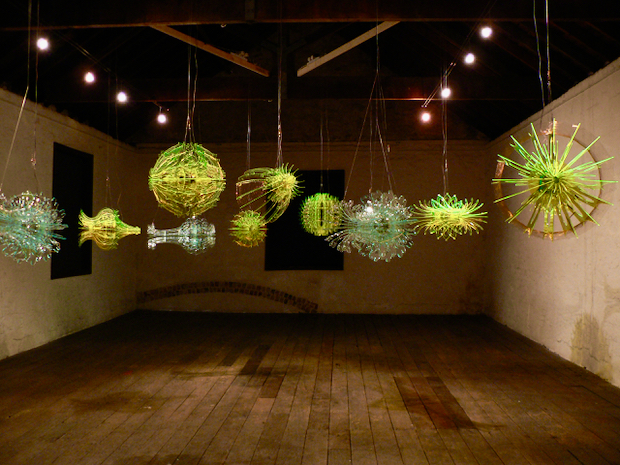 From a philosophical perspective the work forms a synergy of many influences and referents. I am drawn to an image of the Australian environment in which the terrain is criss-crossed by a network of voices, be these the 'song-lines' of the Traditional owners, the frenzy of insect and bird communication or the lacework of technological communication links upon which we are so dependant. Ariel attempts a sonic-mapping of voices lost in the aether, of song long settled in the dust and inscribed into geological strata.