M.A.R.I.N. made its debut at ISEA2009 Belfast in August 2009. This first expedition, the "Irish Sea EcoLocated Residency", focused upon Littoral cultures: how marine ecologies close to human settlements are perceived by scientists and local communities, and how our art & science research team will introduce new cultural strategies to interlace them.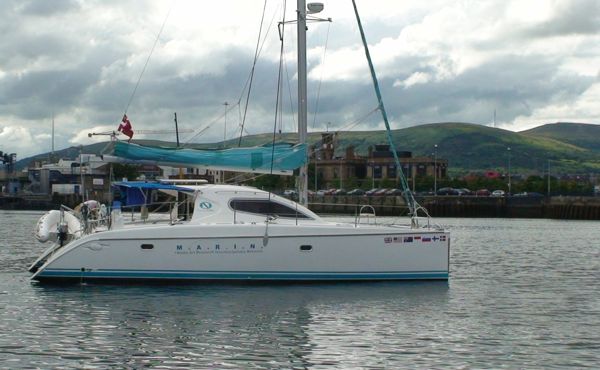 The MARIN vessel in Belfast harbour.
This first collaborative residency aboard the MARIN craft, entitled Ecolocated: Littoral Lives was realized by three artists, Nigel Helyer (AU), Tapio Mäkelä (FI), and Andreas Siagian (ID), supported by additional members of the AudioNomad team, Daniel Woo and Michael Lake from University of North-South Wales, Sydney. The sailing vessel, a 12.6m catamaran was converted into a floating studio/laboratory, serviced by a large array of solar panels (that struggled in the weak Northern sunshine!).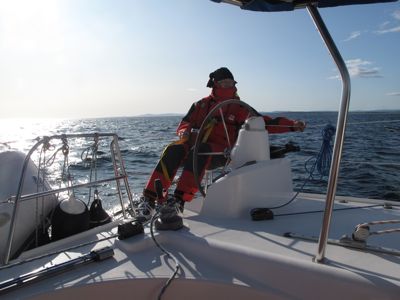 The Firth of Inverness.
One of my ship's logs ~ these formed part of the first version of "JourneyScapes" and map based log capable of geolocation images, texts and audio and which formed part of the first of two exhibitions at Catalyst in Belfast.
The EcoLocated team conducted water quality tests, made field and hydrophone recordings, interviews, and collected and geo-tagged information to create a location based immersive, surround-sound installation, technically based upon AudioNomad software (developed by Nigel Helyer and Daniel Woo).  EcoLocated embraced a new development which took water quality measurements, which were sonified and visualised within an enhanced version of AudioNomad's Trigger Tiles editing platform, allowing visitors to interact with pools of scientific data, geo-located within the mapping interface.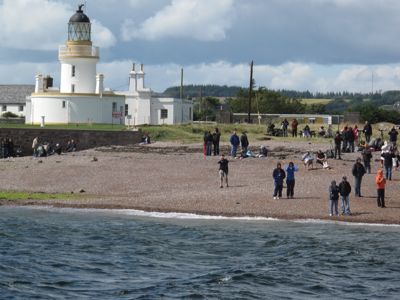 Entering Inverness harbour.
In addition to collecting hours of oral histories and interviews with Environmental Scientists the EcoLocated project continued to extend beyond the gallery context initiating a range of local community workshops on the North West Coast of the UK and in Liverpool.  Stage one of the installation opened at the Catalyst Arts gallery in Belfast on August 6th 2009 with stage two opening for the ISEA symposium which took place between August 23rd and September 1st 2009.  The crew subsequently sailed to the West coast of the UK to participate in the AND Festival (Abandon Normal Devices) hosted by FACT (The Foundation for Art and Creative Technology).  We moored right outside the Tate North and ran projects with their youth team.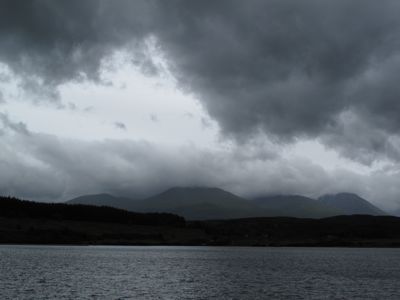 Ben Nevis.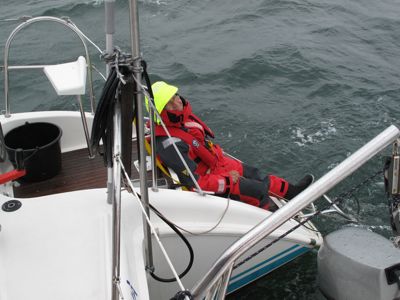 Tapio taking a water quality sample.
We have arrived safe and sound, albeit a little damp after a thirteen day yoyage across the North Sea, though the Caledonian Canal (that bisects Scotland from Inverness to Fort William) and then past the isles of Jura and Islay, across the North Channel to Ulster.  Now the work begins!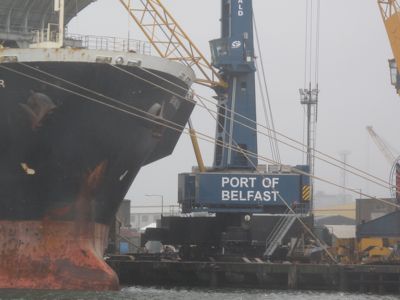 Belfast Port.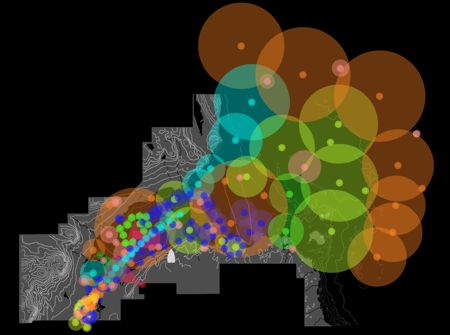 The AudioNomad interface for the Stage 2 Ecolocated exhibition
Catalyst Arts, Belfast ISEA2009.
The following audio snippets are sample files that form the 'raw material' of the AudioNomad 3D spatial audio composition ~ better than nothing but the only way to experience the real thing is to experience the real thing!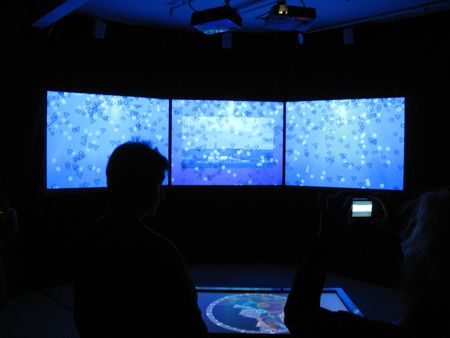 12.2 surround rig with triple projection showing water quality data visualisation.