Factory Spirit was a miniature public sculpture installed in the boundary wall of a major Buddhist Temple in Chiang Mai (Northern Thailand as part of the Chiang Mai Social Installation Festival 1993.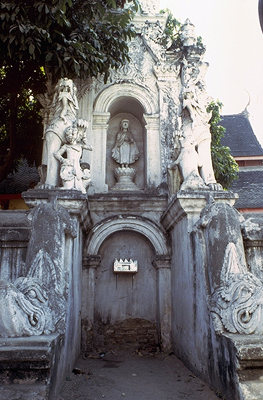 Steel, Glass, model figurines and vehicles.
350mm x 250mm x 350mm – x2 units.
This miniature public sculpture consisted of two factory/showrooms installed in the niches of the boundary wall of a large Buddhist Temple in the centre of Chiang Mai.
Kneeling outside of each factory, two small supplicants (a common item found at Buddhist shrines) stare fixedly at the shiny western car placed within the factory.  Adjacent to them, a small slot-like door admits a continuous stream of worker ants, attracted by a large pot of honey hidden within the factory.
This playful critique of the ambivalent attitudes with which Thai culture regards the mixed blessings of Western Culture caused heated debate within the Temple community!